Services
Prices
What We offer

Free consultations
Call or come to us to discuss all the details of your internet marketing.

Designing
We approach each new project in detail with an analysis of all the necessary parameters for quality content.

Website Design
We respect deadlines, meet obligations and strive to realize all the wishes and requirements of our clients.

24/7 Technical Support
By creating the website, our cooperation is not done. We will stay in touch and provide technical support upon your request.

Fast Loading
All of our websites load quickly, are easy to manage, and are functional for end-user search. The pages of the website respond quickly and are filled with quality content, pictures and words.

Easy to use
We create websites that are easy to manage, add textual and visual content. Clients receive instructions and detailed explanation for using the tools and managing the site's administration panel.
Suitable for all screen sizes - Computer, Tablet, Phone…
The price includes basic SEO optimization
Works on all browsers - Chrome, Mozilla, Opera, Safari
We set up the website on Google and Bing search engine
We are creating a new email address and google analytics for tracking and analyzing visits
We set up the website the website on Google Maps
Hosting is paid once a year, the price ranges from 30eur to 250eur depending on your needs
New Domain or Web Address costs 10 - 20eur, can be paid for one or ten years
When we finish creating your website, you own the domain and website. That means you can transfer it to any server
We buy a domain in your name so that you are the owner of the web address. You can always transfer it or change the website related to your domain.
Price List
How much does it cost to create a website?
Of course, this is the first question potential customers ask us when they call us or send us an inquiry. Unfortunately, we cannot give a concrete answer to this question immediately, although we would like to. The cost of creating a website depends on what the client wants, the scope of work, deadlines, special requirements and many other parameters.
A big problem when defining the price is that the client does not really know what he wants, that is, sometimes he has a distorted picture of the relationship between price and quality. This problem occurs for two reasons. First, there are many who offer a site creation service at unrealistically low prices just to attract customers, and when you call them, the price situation is completely different. This creates a belief among people that the development of a website can be realized at a lower or cheaper price.
Secondly, due to ignorance of the topic and profession, numerous free versions offered on the Internet, people are misled that creating websites is an easy job, which they may be able to do themselves, so why would they pay dearly for such a service. And the truth is completely different. Apart from this, compared to the period a few years ago, when sites were much simpler, and therefore cheaper, now the technology of creating sites is constantly improving and upgrading, websites are increasingly technologically advanced, which of course affects the price.
Just look at the facebook platform. A decade ago, it was a simple social network, and now it's a huge platform with a powerful advertising network. It's similar with websites.
What kind of website do you want?
Like we said, this is the first question we ask our clients. The answer is often vague, so after considering all the questions and wishes of customers, from a small website to a multilingual online shop, which must be among the first on Google.
We can generally say that the cost of creating a site depends on whether it is a dynamic or static site, then the number of pages, textual and visual material to be prepared, special additions and extensions and of course SEO optimization on which the ranking of the website in Internet search depends.
Our sites are made with basic SEO optimization, while advanced optimization is paid depending on the parameters included in it. For example, the Google Search Engine has determined over 200 factors that affect the position of websites in search, and the number of factors included in SEO optimization determines the price.
What is a standard good website?
With us, you can at least get a standard good website that will serve you well for many years. We do not make cheap versions of websites, because they can do more harm than good to clients. Everyone who wanted to present themselves to their potential customers and consumers through a cheap website. In the end was at a loss because the competition forced them to create a new, quality website if they want to survive in the internet market.
A standard good website in our development costs 300eur. For that, you get quality textual and visual content, a functional interface, ease of managing the administrative panel, recognizability, security against malicious intrusions and a good position in search engines. If you have strong competition on the Internet and want to be among the first on Google, you need advanced SEO optimization.
How much does SEO website optimization cost?
There are many factors that affect the cost of SEO optimization. Depending on the competition, for some websites it is necessary to do SEO optimization for months in order to push the site to a good position. Some websites work great even if they do a one-time standard optimization and some have to do the optimization constantly.
Some of the key parameters of SEO optimization are the correct selection and density of keywords in the text, well-written meta tags and distributed titles, quality and length of textual content, quality of internal and external links, loading speed, script minimization, website refresh with new content, availability and activity on social media and much, much more. The parameters involved in SEO optimization are determined after considering all business segments. Then testing and upgrading is done if necessary.
If you need a quality website that will meet all your requirements, call us for an agreement. We will be happy to consider your ideas, suggestions and offer the best solution for your needs. With us, you are guaranteed to get the best price-quality ratio.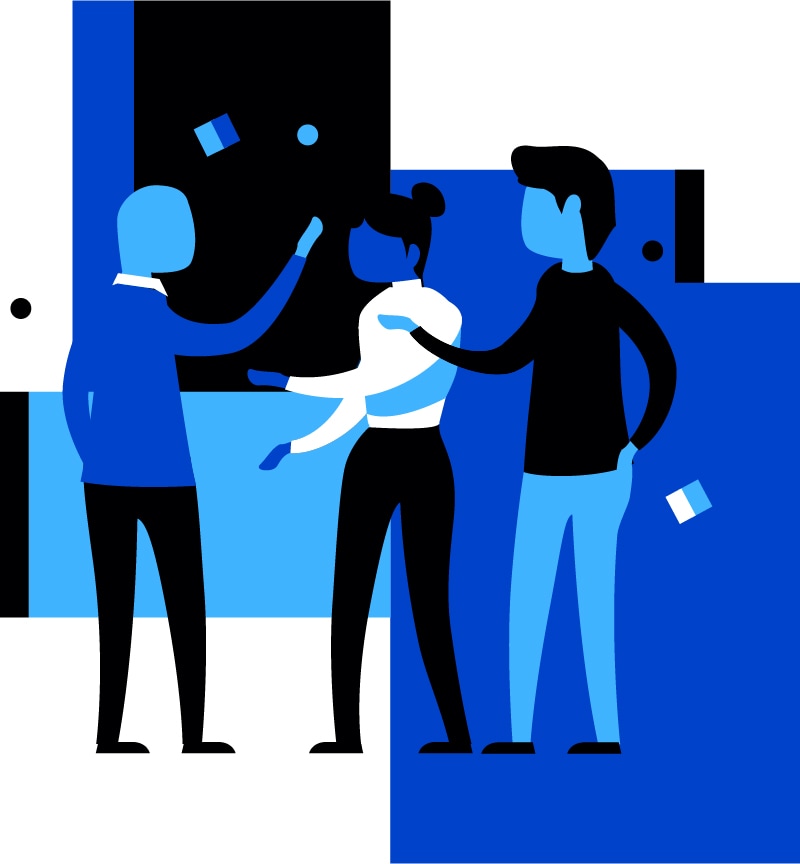 Frequently Asked Questions
1. When will I be first on Google?
This is one of the most common questions clients ask. The position on the search engine depends on many factors, and above all whether the website is SEO optimized, ie adapted to the requirements of the search engine and to what extent, whether there is competition on the Internet, how the website is updated with new content, whether it is interactive with users and much more… It would be the best for you to call us for a more detailed analysis and we will offer you a solution that best suits your needs.
2. How long does it take to create a website?
The deadlines for creating a website depend on the scope of work ahead of us. Simpler sites with fewer pages can be ready in a relatively short time (up to 10 days), from the moment of the agreed start of work. Once we agree on the deadline for creating the website, we try to meet it in a day, which many of our clients have been convinced of.
3. What is SEO optimization?
SEO optimization means creating a website so that it is well ranked in the search by given keywords and other parameters. We distinguish between basic and advanced SEO optimization. All our websites include basic SEO optimization, while advanced work is done at the request of the client in accordance with the needs of the business.
4. How do I know my website has been visited?
When creating a website, if you wish, we can link you to Google and other analytical tools, where you can see exactly how much your website has been visited, the profile of users who visit it, the time spent on the site and other statistics.
5. Can I change the domain name?
You can change the domain name on the same hosting, but this entails determining the measures and actions that must be taken to keep the website secure. One of the first steps is backing up the emails you want to save, changing the links in the scripts, and more.
6. Can I move the website to another provider?
You can move the website to another provider. You need to inform the previous provider and check what are the conditions for the termination of their services, as well as whether the new host meets all the technical requirements for the transfer to be done without interruption in the work of emails and visibility of the website.
7. How much does website maintenance cost?
The cost of maintaining the website depends on the volume of work. It is best to call us and explain to us what our technical support would consist of, ie whether you need to insert content on the website, ensure security or something else. Based on that, we can form a price.
8. Can I change the look of the website myself?
If you have a certain skill and experience, you can change the look of the website as much as allowed from the administrative panel. You can also change the theme, but in that case it often happens that certain things go wrong. So we suggest that you call us for information or to provide additional services related to changing the look of the website.
10. How long will my website last?
The lifespan of a website depends on how it was done in the beginning, whether it is regularly updated, in which program it was created and much more. Let's say that the lifespan of a site is 5-7 years on average, after that you should switch to a more advanced version.
Make the right decision.
Now is the time to improve your business with high quality website.